How to Get Rid of Bed Bugs
If you have ever slept in a room infected with bed bugs
1
, you know what a nuisance these tiny pests are. What is more, they can be very dangerous because they carry infection. Therefore, if you see even one of them in your apartment you should do all in your power to protect yourself from these uninvited guests.
Description of Bed Bugs
Bed bugs are brown insects of oval shape which are four-five millimeters long. They feed on blood solely, so they will bite you if they make your flat their home. After a substantial meal they swell and become reddish.
Every day a female bed bug oviposits
2
up to five eggs. It lives about three hundred days and is able to lay more than five hundred eggs in its lifetime.
Bed bugs live in mattresses, furniture, sheets, pillows, electrical outlets, and any other places where they can hide themselves. They are often found in cheap hotels. If you travel much and stay at such inns, there is a strong possibility that some day you will bring them to your place in the luggage.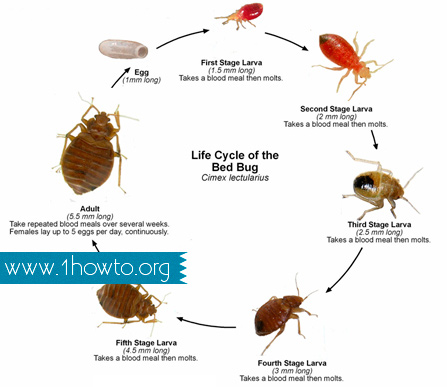 Getting Rid of Bed Bugs
If you want to get rid of bed bugs quickly and efficiently, call professional exterminators from a pest control firm. But if you do not feel panic because of several bed bugs that you have found in a bedroom, you can overcome them on your own. Read on to find out how to do it.
Kill the visible bed bugs and their eggs with surgical spirit (rubbing alcohol). Just spray it on them.
Launder affected items, having put them in a bag.
Throw away things which are heavily affected (like big mattresses).
Smaller things can be cleaned by heating. Leave them in the hot sun for a couple of days. It will kill the pests.
You can try to freeze them too, but it will require about two weeks for it.
Do not try to get rid of bed bugs by lowering and raising the thermostat. It is useless.
Buy a simple steam cleaner and use it to kill bed bugs and their eggs in all seams, cracks, and corners.
Vacuum all the rooms in your house thoroughly.
Spread an aerosol insecticide.
Use silica gel.
We hope that our pieces of advice will help you to get rid of bed bugs in your place.