How to Build a Deck
Building a deck may seem to be not an easy project, but it is not too difficult for you. In fact, any man is able to construct it by himself. Our step-by-step guide for how to build a deck will help you to manage the task.
Materials and Tools
First of all, you should make sure that you have the necessary tools and materials.
Tools
Shovel
Spirit level
Tape measure
Rake
String Line
Hammer
Hand or circular saw
Nail punch
Materials
Decking
Timber posts (90x90mm)
Joists (100x100mm)
Bearers (125x125mm)
Dry concrete
Weed killer
Bolts
Decking nails
Stirrup bracket
Coach screws
Paint
Framing anchors
Step-by-Step Guide
Now that you have all the tools and material required for building the deck you can start constructing it. Follow our step-by-step instructions.
1. Planning the Decking Area
Planning is a very important stage. First, you can draw a rough sketch. It will be helpful to lay out laths in order to see how your future deck will look.
When you have determined the space of the deck, you can make a plan of the whole area. You should mark on the outside walls of your house, manhole covers, soakaways1, door openings, trees, air bricks and any other obstacles.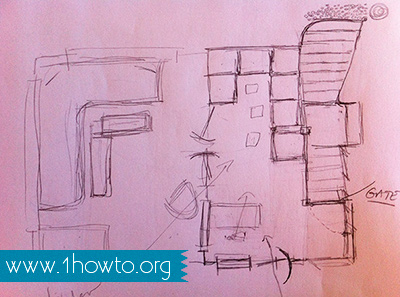 2. Measuring up the Deck
Now you have to figure out the deck's area in square meters. You can do it relying on the scale plan. It is necessary for you to know how many packs of decking you have to buy.
Then calculate how many rails and posts you will need. You can ask for help in store if you are not sure, but don't forget to bring the plan of the deck with you).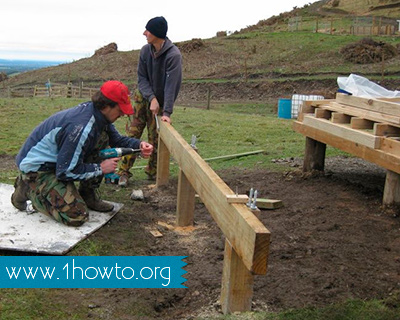 3. Dealing with the Ground
Use a string and pegs to set off the perimeter of the deck. Now you should clear vegetation and sod from the place and beat down the ground.
Lay a special fabric on the earth in order to prevent grass growing. Weigh down the fabric with concrete or just peg it.
You should not lay the deck's framework straight onto the soil. You'd better use concrete foundations for it. You can make them or buy ready slabs.
Each slab should be placed approximately 1500mm from the next one.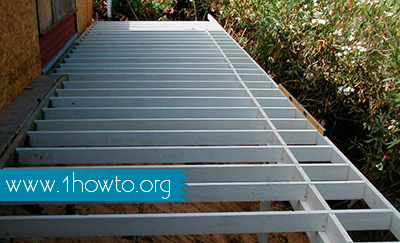 4. Constructing the Framework
Use joists for making the outer frame. Put them on the slabs and fix together with rustproof screws. You can also use wood glue.
If you are going to attach your deck to the house, the first joist should be screwed to the wall. Don't forget to make a gap by placing stainless washers between the wall and the joist.
Now the outer frame should be filled with long joists. The intervals between them will be about 400mm. Screw them to you frame.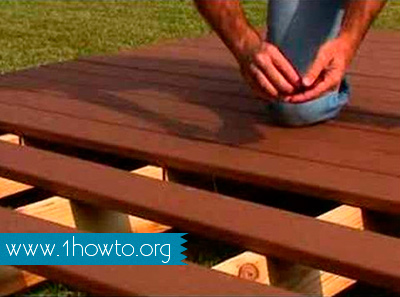 5. Fixing the Boards
Now that the joists are fixed, it is time to place the deck boards. Lay boards leaving 5mm spaces between them. It is necessary for ventilation and some other purposes, like expansion during wet weather.
You should use special stainless screws in order to prevent the appearance of rust stains in future.
If you drill holes for screws, it will help to avoid splitting the decks.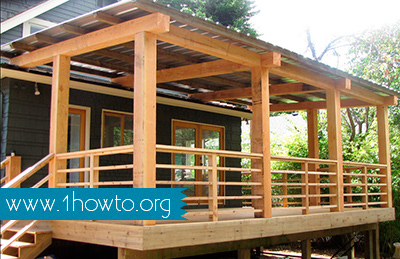 6. A Raised Deck and Possible Variations
It is more difficult to construct a raised deck than a basic one. The easiest way is to use upright posts for supporting the framework and place an flat deck on them.
The framework is constructed by the same method as a regular deck, but you will have to use deck screws, coach bolts or joist hangers for fixing joists.
Square timber posts are treated vertically with the help of metal support plates. You will screw them to concrete footings. Use expansion bolts for this.
You can fit the boards diagonally or make a herringbone layout, thought it is a more wasteful way.
If you build a raised deck, maybe you will have to construct railings.
7. Finishing Work
Though deck boards are usually pressure-treated with preservative substance their color fades after some time. If you don't want it to age in a natural way, you can treat the deck with penetrating oil.
Tips on Maintaining Your Deck
From time to time, wash your deck with a special cleaning solution, following the manufacturer's instructions. Cover the deck with oil after cleaning.
Check loose boards, fix protruding screws, and repair splinted wood at least once a year.