How to Make Ice Cream
We are going to teach you how to make ice cream in your kitchen without a special machine. Of course, these machines allow making really smooth and creamy ice cream, and they are not very expensive nowadays, but it will be useful for you to know how ice cream can be made without any special devices.
In fact, the process of making ice cream is so simple that it will be an excellent activity for your children. We recommend you to start with a custard-based ice cream recipe. For example, you can easily make vanilla ice cream, using our tips. If you do not like vanilla, replace it with cocoa powder, and you will get chocolate ice cream.
Let's start.
Making Vanilla Ice Cream Mixture
First of all, you should make ice cream mixture. You will need the following ingredients:
250ml milk
150g sugar
A nip of salt
5 egg yolks
500ml cream
One teaspoon vanilla extract and one vanilla bean (or 2 tablespoons cocoa powder)
The process of making the cream consists of several step.
Heat milk, sugar, and salt in a pot.
Get out the seeds from your vanilla bean. Add them and the pod into the milk. Cover the pot, turn off the heat, and let the milk infuse for about one hour.
Now you need an ice bath. Fill a large bowl with water and ice. Place a two-liter bowl in it. Pour your cream into the smaller bowl through a strainer.





Then the yolks should be stirred together. Use a separate for it.
Warm the milk. Bit by bit, start pouring it into the egg yolks. You should constantly whisk them while doing it.





Scrape the mixture back into the pot.
Continue cooking it over very low heat. Stir the mixture constantly. The custard is done when it coats the spoon.
Pour your custard through a strain into heavy cream. Chill the mixture over your ice bath.
Now you can add vanilla extract.
Now you can turn you mixture into vanilla ice cream.
Making Ice Cream
As stated above, we are going to explain you how to make ice cream without using a machine.
Put the ice cream mixture into a plastic or stainless steel bowl and place it in the freezer.





Check it after about 45 minutes. When the mixture starts freezing at the edges, you should take it out and stir strongly with a whisk. Put in back in the freezer.





Repeat the procedure every half an hour until your ice cream gets frozen. As a rule, it takes about three hours to be done.





Then put the ice cream into a container or serve it.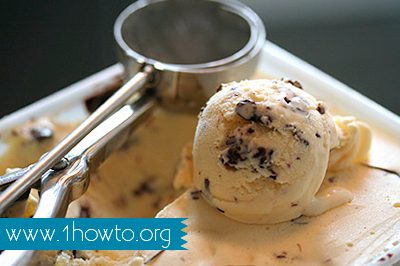 Now you know how to make ice cream without any machines.